The Expert Guide to Maintaining Your Wheels With GYEON
Posted by JEFF MCEACHRAN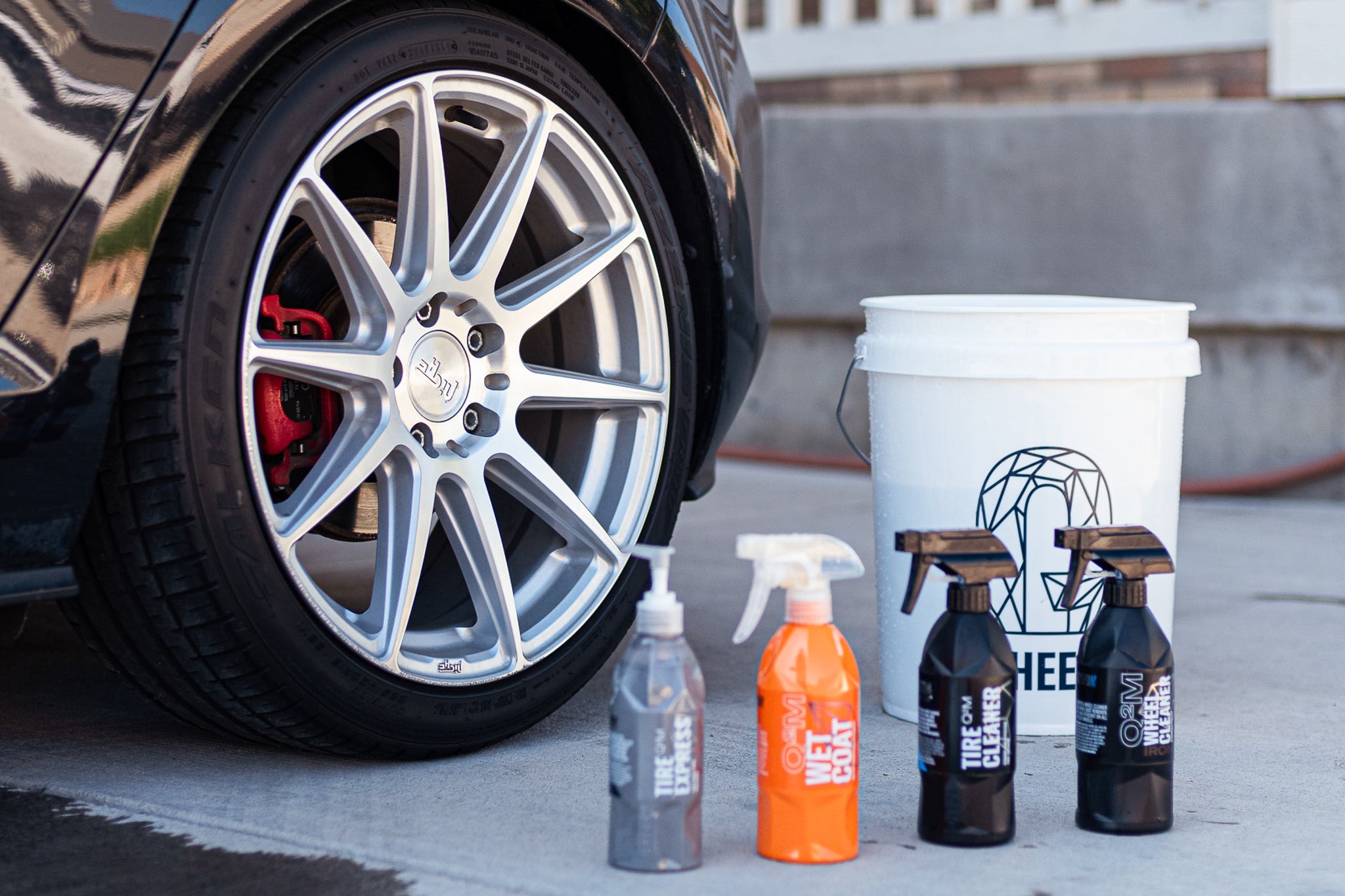 While glossy and well-polished paint is often the key area of focus in detailing, when you step back from the finished project and take it all in it is the wheels and tires that really set off the look. In this article we'll explore the GYEON WAY to perfectly maintain your wheels and tires. 
The key to proper wheel maintenance is keeping the wheels as clean as possible as often as possible. Having a ceramic coating applied to your wheels is great, but not always necessary. With a few simple products from GYEON we can keep your wheels looking better than new.
Q²M Tire Cleaner & Q²M Iron Wheel Cleaner
A clean wheel and tire combo is a good looking wheel and tire combo, no matter the finish or design. GYEON produces two perfect regular maintenance products for this task. GYEON Q²M Tire Cleaner and Q²M Iron Wheel Cleaner are the go-to choices for wheel maintenance. 
You can perform this step simultaneously, using both products at once. Spray a generous amount of Q²M Iron Wheel Cleaner on to your wheels finish. Make sure the surface is cool and out of direct sunlight, and high temperature will dry out the product and keep it from working. As the wheel cleaner begins to interact with the iron particles from your brake pads it will turn purple. This is a great way to tell how much contaminant is on the surface. While the wheel cleaner is soaking in, spray Q²M Tire Cleaner on to the tires. 
With both cleaners applied, agitate gently with a high-quality brush. GYEON produces specific brushes for both your wheels and tires. Once agitated, rinse the wheel and tire combo thoroughly. Repeat this cleaning step until the wheel cleaner no longer turns purple and the suds of your tire cleaner no longer turn brown. This will show you that all contamination is removed from the surface.
Q

²M Tire Express
Now we can take the finish up a notch on both surfaces and make cleaning even easier next time around. First up is GYEON Q²M Tire Express. This is an amazing tire dressing that can be applied when the tire is wet or dry. I like to apply wet once the wheel and tires are clean. The dressing spreads easily and the wet application makes sure the product gets in to all the crevices of the tire. You can also apply dry, but do not over use. I like a soft satin finish to the tires and too much product can make them shiny.
Q

²M WetCoat
After the tire dressing is applied, it is time to break out GYEON Q²M WetCoat. Q²M WetCoat is a powerhouse in the GYEON line and produces instant gloss, water beading, and protection to any exterior surface. I like to apply a layer to my wheels at washes to add a beautiful look and a bit of protection. Make sure the wheel is wet and spray a small amount of product on the wheel's surface. A little goes a long way with WetCoat. Immediately rinse the wheel thoroughly. You will see an immediate increase in water repellency. Repeat this process on all four wheels and tires.
That is the GYEON WAY to wheel and tire maintenance. Easy cleaning followed up by added protection and an uptick in looks.