Understanding GYEON's Spray-On Protection
Posted by JEFF MCEACHRAN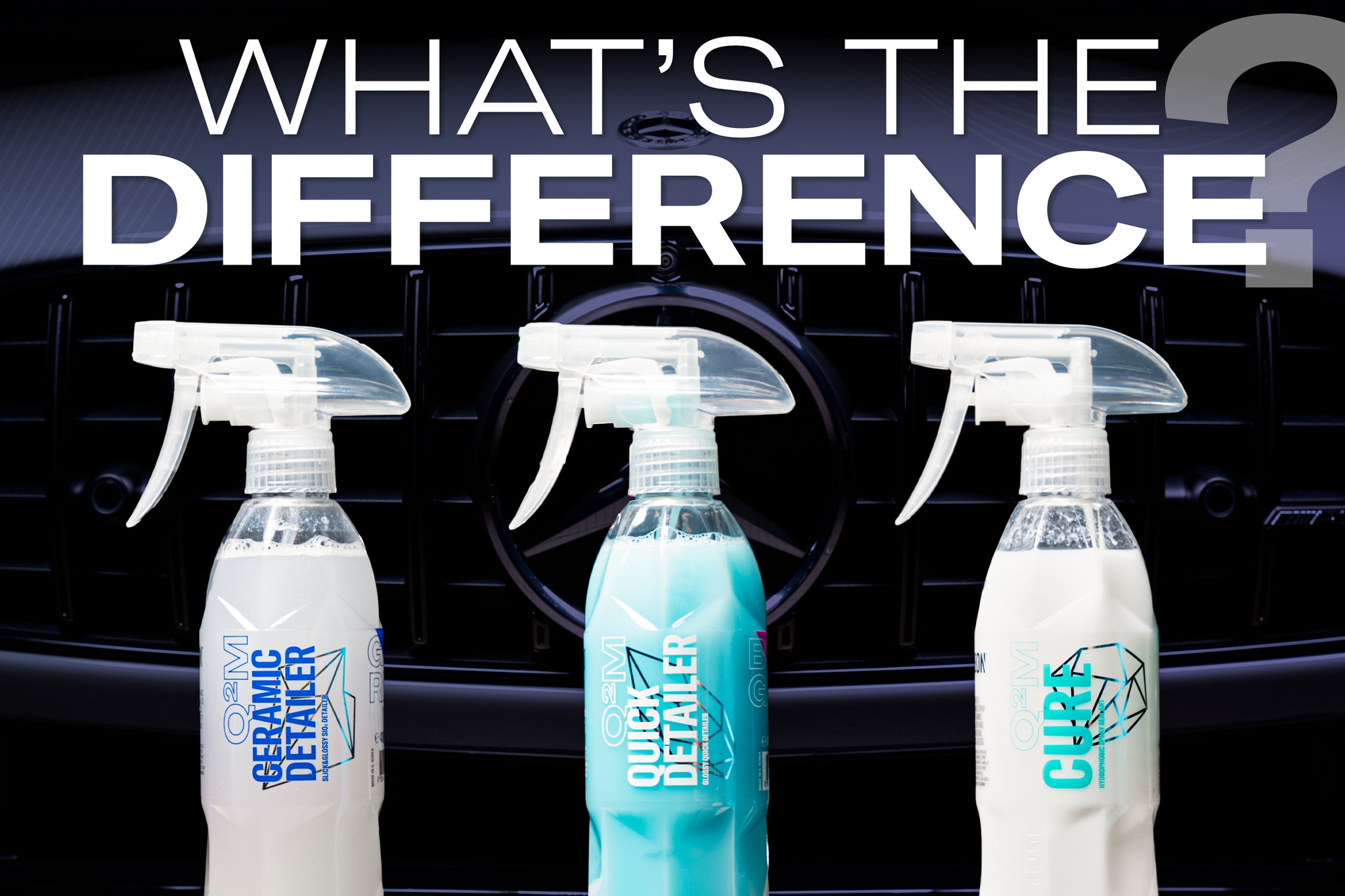 Alright, so you're sitting here looking at three different products from GYEON that you can spray on and wipe off. All three add gloss, slickness, water beading, and protection. Which one do you need? For what? And why? We've got the answer.
The three products in question are GYEON Quick Detailer, Ceramic Detailer, and Cure. All three products are of completely different chemistry and designed for different purposes. And luckily the explanation is very simple and straightforward!
Q²M 

Cure
Let's start by separating GYEON Cure from the two quick detailer products as this is an important distinction. GYEON Cure, as the name suggests is a product designed specifically to protect a fresh ceramic coating while it is……curing. A freshly applied ceramic paint coating will dry within the first 12-24 hours. But it can take 7-14 days to fully cure. During this curing time, we want to keep environmental contaminant, chemicals, and cleaners from the coating's outer surface as best we can. GYEON Cure is designed to be applied at a minimum of 12 hours after a fresh ceramic coating application to provide a sacrificial and protective layer to the coating itself and allow it to cure without contact with contaminant.
To apply GYEON Cure to the paint, I prefer a GYEON SoftWipe Towel. A little goes a long way, and you only need to achieve a thin layer over the fresh coating for Cure to work. Spray 1 or 2 spritzes into the SoftWipe Towel and wipe GYEON Cure into the surface with a fast arm motion. I like to work in a shoulder-width area. You can either flip the towel to the dry side or use a second SoftWipe to go over the area again and pick up excess product.
GYEON Cure is also fantastic as a coating top-up to be used every 3-4 months to keep the coating's ability to repel dirt and contaminant at a maximum.
Q²M 

Quick Detailer

Now on to the quick detailers. GYEON Quick Detailer was introduced first. While we would always prefer a proper soap and water wash to remove any surface contaminant, we found that far too many people were using Cure in the ways you would use a traditional quick detailer and that is not the proper method. And it is improper for one key reason. Lubrication. As GYEON Cure is designed to be applied to a fresh coating, we know that the surface is clean. And GYEON Cure is not at all designed to remove light dust and debris from a paint's surface safely.
GYEON Quick Detailer is built with chemistry designed to lubricate the interaction between your microfiber towel and the paint but also to encapsulate light dirt and debris so it can be safely lifted from the paint's surface and into the microfiber towel without scratching the paint. This is the key difference between the quick detailers and Cure.
To use GYEON Quick Detailer, I again prefer a SoftWipe Microfiber Towel. I like the long fibers and feel of the towel over the paint. With a quick detailer, we are looking to remove light dust, debris, or fingerprints so I am happy to spray the product directly onto the paint to ensure proper encapsulation and lubrication takes place.
Using a gentle and straight-line arm motion I like to "wipe up" the product from the surface knowing the potentially damaging dust and debris is inside the liquid. Then come back with a second GYEON SoftWipe to remove excess product. GYEON Quick Detailer can be used on all exterior surfaces.
Q²M 

Ceramic Detailer
So, we have one more detail spray product to discuss, GYEON Ceramic Detailer. Ceramic Detailer uses all of the same important lubricants and encapsulating chemistry as Quick Detailer but with one key difference. GYEON Quick Detailer is carnauba based to provide a very warm glow whereas GYEON Ceramic Detailer is SiO2 based to match the sharp, crisp, and wet gloss of a ceramic coating. Both quick detailers are fantastic products. It is totally personal preference on which one you choose based on the desired look and feel of the paint.
Use GYEON Ceramic Detailer in the same way as Quick Detailer. Spray 2-3 spritzes directly onto a shoulder-width area of paint. Wipe up gently and in a straight line with a GYEON SoftWipe. And pick up any excess product with a second towel. Ceramic Detailer can also be used on any exterior surface of the car!
Follow us for new product releases, in-depth product guides, and updates on our social media channels (Instagram, Facebook, TikTok), and subscribe to our YouTube channel for a mix of all things GYEON. Have a specific topic or product you'd like to see us talk about? Let us know!