How To Utilize Our Essentials Kit
Posted by JEFF MCEACHRAN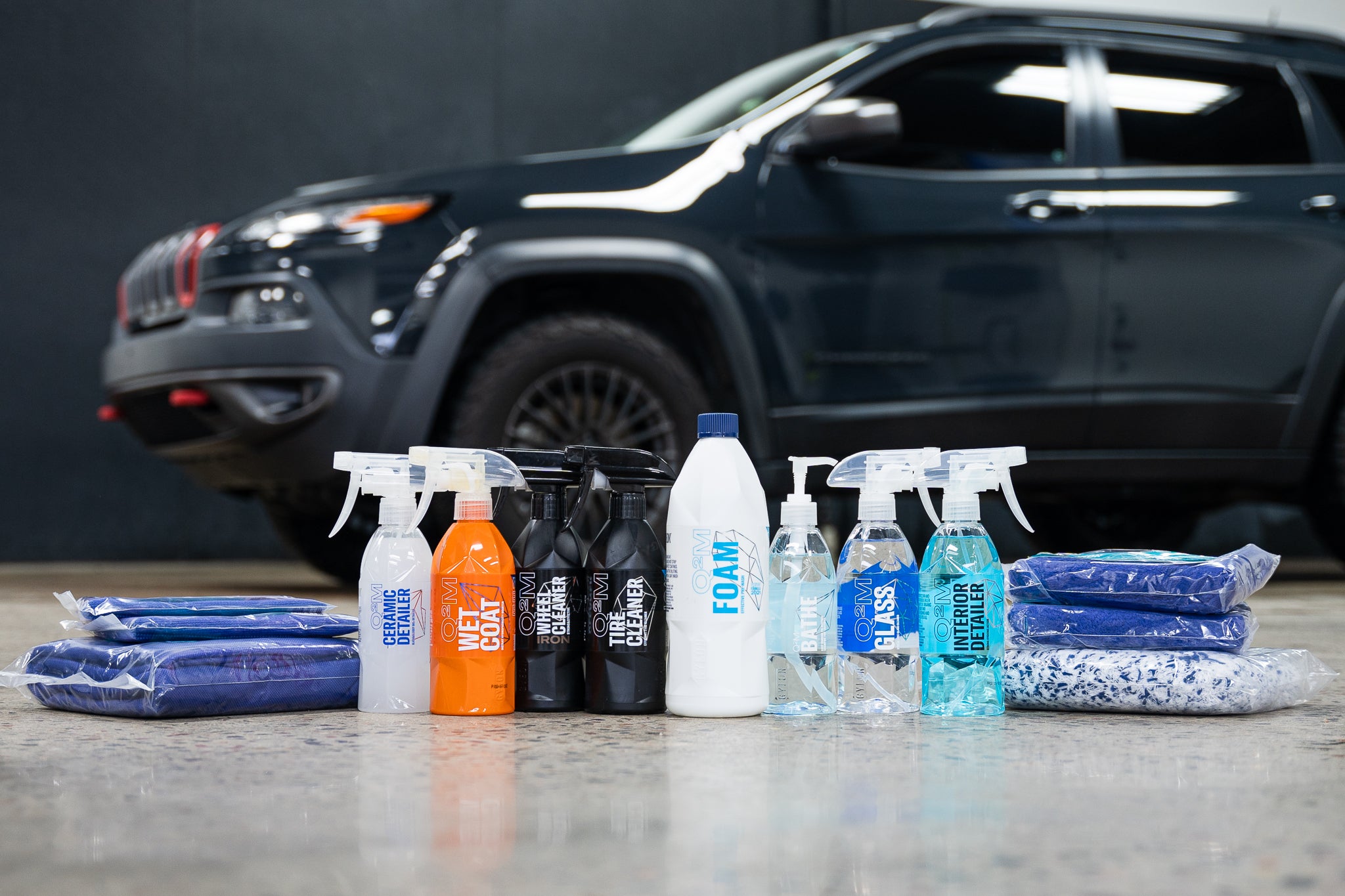 Looking to change up your wash routine or quickly replenish key items in your detailing cabinet? Look no further than our specially curated Essentials Kit that contains some of the best-selling products that we have deemed...you guessed it…essential! If you're curious about or are new to GYEON products, this kit is the perfect way to get a metaphorical taste (please don't actually taste any of the products) of what it's like to Gyeonize your ride. In this post, we'll be discussing a little bit about what this kit has to offer and how to properly utilize each product that it comes with.
The Right Tools For The Right Job
When we were putting this kit together, we wanted to cover all facets of what a maintenance wash entailed; everything from wheel cleaning to interior refreshing, each product was specifically designed to perform at its maximum potential in its given field of work. Starting from a detailer's perspective, let's look at the products that the kit comes with and explain a bit about the specific task each one has.
Personally, I've always started by cleaning the interior first and working my way out of the car to get to the wash portion. We've included our Interior Detailer with this kit to tackle any light-duty cleaning or refreshing. Thanks to the high alcohol content found in the formula, it also makes it a very hygienic way to keep you and your passengers safe as well – and in this day and age, there is definitely a bit more of an emphasis on everyone's health. Interior Detailer is best paired with a BaldWipe and can be used on all interior surfaces ranging from glass to leather to even alcantara. So grab a pair of nitrile gloves to protect yourself on this detailing journey and let's get to work.
The Outside
Once you've made your way to the outside of the vehicle, like any maintenance wash, you'll want to start with the wheels. We've included our classic duo of Tire Cleaner & Iron Wheel Cleaner in this kit, and it doesn't get much simpler than these two incredibly effective products. Working on 1 wheel at a time, I like to give the wheels a quick pre-rinse depending on how much dirt and contamination is present. Next, I like to spray Iron Wheel Cleaner first to let it begin to dwell. While the chemical is working, I'll spray down the tire with some Tire Cleaner, load up some elbow grease, and begin to scrub them down with the included Tire Brush. Once I've gone around the tire, the wheels should be about ready to agitate and rinse. If you're in a pinch, using something like the Gyeon SoftWipe is a safe choice, but I personally like using our Wheel Mitt – it features a separate pocket for the thumb to allow you to reach around spokes and into barrels; if you're working on something a bit more complex or intricate like the wheels on this Jeep here, using something like a high-quality horse hair brush can be safe and effective as well. It is worth mentioning here that if you're lucky enough to drive a vehicle that's equipped with carbon ceramic brakes, you'll want to opt for a gentle detergent-based cleanser in place of Iron Wheel Cleaner – I would use the included bottle of Bathe here instead.
Moving on to the wash itself, you'll find Foam, Bathe, and a Smoothie wash mitt. These three products (when used correctly) should provide an incredibly safe and effective hand wash that properly cleanses the surface of dirt and road grime. Starting with Foam, you'll prepare your foam gun canister to the correct dilution ratio and begin foaming the vehicle. If possible, like in this case, be sure to get foam in all of the hard-to-reach areas such as the wheel arches and even under the bumpers/rocker panels. Next up is Bathe – grab your wash & rinse buckets and fill them with water; Bathe is super concentrated so it's important to stick to the dilutions that we recommend. Bathe should be diluted at about 500:1 which is about an ounce of product to 4-5 gallons of product. Load up your wash bucket and drop in your smoothie. Once prepped and ready to go, it's crucial to always wash the vehicle from top to bottom and in straight-line motions while being sure to rinse the wash mitt in the rinse bucket frequently.
Post-Wash
Once clean and rinsed, you're ready to grab one of the two protectants we've included in the kit – Ceramic Detailer or WetCoat. Generally, you'll want to use one or the other, but usually not both together, as they will add too much product in a short period of time to allow the surface substrate to properly absorb/bond with the protection, which could result in a streaky mess. Both products are going to "shine" (pun intended) in their own respective ways, but it's up to you based on how you like to dry your vehicle. Taking a look at Ceramic Detailer first, it is best served when used as a drying aid alongside the Silk Dryer towel – you can read all about how to use them together in a previous blog post that can be found here. 
WetCoat on the other hand is going to be perfect for those who are looking for a bit more of a "hands-off" approach; it is used strictly as a spray-on, rinse-off product that really is that easy. A little bit of product goes a long way, so generally, 3-4 sprays per panel are plenty – be sure to thoroughly rinse and never let WetCoat dry on the surface. WetCoat is a very versatile product in the sense that it can help get protection in places you typically wouldn't be able to reach by hand; this is the reason I personally like using WetCoat on wheels as a maintenance topper. It is a quick way to add a hydrophobic and even layer of protection to the wheel without needing to reach into the barrels, behind spokes, or even take the wheels off of the vehicle in some cases. WetCoat really is an all-around superstar, and it's very easy to see why it's been one of our best-sellers for the past decade.
Finishing Touches
The last product you'll find included in the kit is Q²M Glass, our streak-free and tint-safe glass cleaner. Perfect for post-washing and drying touch-ups, since the cleanliness of glass can make or break a detail. Perfect for use both inside and outside, Glass is an awesome product that leaves your glass crystal clear and perfectly transparent. It's great to keep in the car with you for quick window touch-ups, or even for use around the house too. This is also the point where you can take Ceramic Detailer around the vehicle to take care of any water drips, streaks, etc. Once complete, you'll have utilized every product included in the Essentials Kit and have a car remaining that is freshly Gyeonized.
Essentially Essential
This kit is the perfect introduction to our brand but can also make a fantastic gift if you've got a passionate detailer in your life. This is one of many kits that we offer, so fly on over to our Kits & Accessories page to view all of the other specially curated kits that tackle a wide range of tasks. Follow us on Instagram and TikTok as well as give us a like on Facebook to stay most up to date with all things GYEON, and head over to our YouTube Channel for longer form walkthroughs of products and even showcasing product reveals. Let us know what you'd like to see me discuss in the future whether it be product-specific or job oriented. We've got nice weather just around the corner, and that means good vibes and clean rides. If you live in a climate that's relatively warm year-round, consider yourself lucky; we've still got two or three snowstorms remaining here in Colorado, so definitely take advantage of any warm days you get. Until next time, folks – Happy Detailing!